Entries published on June 10, 2006
Let's talk about frameworks: When frameworks aren't right
I know, I know, I said I was done with the series. But there's one more thing I've been feeling like I should have mentioned: when frameworks aren't the right choice for a project.
The big belly, revisited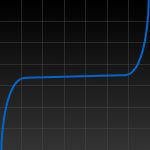 Remember that image? It shows the types of projects for which I think frameworks are a good choice, the 80% or so of web projects which can all be handled by a database-driven application and gradual scaling of the hardware. Which, logically, indicates that other types of projects — basically, those which aren't ...